I know that 2013 is now well on its way. I'm a little behind the curve here with my goal writing - I've already set some goals, I just haven't gotten around to writing them down until now (and even now, a dimply little someone is getting fussy and distracting me.)
Last year, I participated in
Project 52
, the brain child of Karen of
A Peek at Karen's World
and Jennee at
Jennee Thompson
. I've done that for the last
couple of years
, and have really enjoyed it. It can be a little challenging, though, trying to keep track of a 52 item list. It can feel overwhelming, even if some of the goals were things I was going to do anyway (turn 30, for instance.)
This year, Karen and Jennee have joined with Angie at
My So-Called Chaos
, and changed to monthly goals. This is great, because now there is no pressure to write something once a week (not that I was doing that anyways.)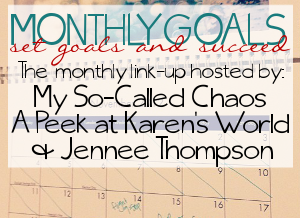 I know that a lot of people don't like New Year Resolutions, viewing them as empty promises, sure failures. But I love the idea of goals, re-evaluating what I want to accomplish, physically, socially, and within my family.
Not all of my goals work under the monthly format, requiring months of preparation or are too big to be done in one month. These are my big, year goals. But I have monthly goals that will help me prepare for them.
My Big 2013 Goals:
- Train for and run a 5K
- One way or another, take my boys to see the ocean
- Pass my licensing boards
- Finish our basement
But we know that all journeys start with a single step, so there must be small goals as well.
So for January, here we go...
January Goals:
- Exercise for 30 minutes at least 4 times a week
- Only have dessert once a week
- Lose 5 pounds
- Find childcare for Duck, return to work, and NOT have a major breakdown while doing so
- Attend church twice
- Clean out my closet
- Schedule a dentist appointment
- Start my board study
- Finish the book I am reading
- Clean up this blog (take care of the tabs that lead to nothing, write my About Me page, etc.)
That might be a little bit much for a single month, but I figured I should start big, while I still have the energy. In fact, I may just try to get them all done today.