I hope that you can all be patient with me while I work nights. It's a very strange sensation to be on a schedule completely reversed from everyone else's. Sleeping during the day, working all night. It takes some getting used to and it doesn't leave me with a whole lot of normal time.
Anyways...
This week, happiness is...
Re-discovering how much fun bowling is.
It's one of those things we hardly ever do, but when we do, we always think that we should do it more often.
I bet you had no idea how many different ways there are to bowl (the granny and the shot-put being go-to styles of the night.)
Or how many different ways there are to watch the ball as it courses (or moseys) down the lane...
I must say, we're quite terrible bowlers. We're lucky to break 100.
But there were a lot of high fives, celebration dances, and laughing. Which was better than any amount of spares and strikes.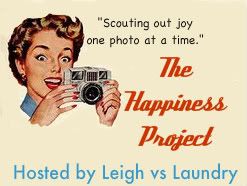 Go visit Leigh at Leigh vs Laundry for The Happiness Project, and post a photo of something that makes you happy!