All we did was turn the page on the calender. But it felt like everything changed.
Suddenly, it was warm. The snow was melting, the sky was clear, and it felt like spring. Granted, the snow in the parking lot is still in piles taller than my car and it may take a couple of months for all that to melt, but I'm beginning to have hope.
Alright, I'll be honest. Warm might be an overstatement. It was 37 degrees. But with the last two and a half months spent at temperatures 20 degrees or less, this feels balmy. In fact, Bug refused to wear a coat outside. I tried insisting, but I could just not counter his persistence that it was now "too warm for coats." Instead, he traipsed around outside in a T-shirt.
Apparently, most of Iowa agrees, since on my way home from work I passed dozens of people out walking, running, and riding bikes, many in shorts and T-shirts. On March 2nd, in 37 degree temperature. Crazy Midwesterners.
March saw evening television without the Olympics. So now there is finally time to catch up on Lost, Survivor, Amazing Race, and Psych episodes that are filling my DVR. Although I sure will miss the bobsledding commentary.
"There is no Mason-Dixon line in Germany."
(If someone understands what this is supposed to mean, other than the obvious fact that, yes, that's correct, there is no Mason-Dixon line in Germany, please let me know.)
March has also brought the end of internal medicine and the start of anesthesia.
It had been over a year and a half since the last time I did anesthesia. In fact, that was the last time I was in the operating room.
I've spent the last several months worrying that I might not like it anymore. Or that I would have forgotten everything, and be a complete failure. I was desperate to like anesthesia, and to be good at it, well, because I felt like I didn't have a lot of other options. I didn't really like anything else.
Sitting in the operating room, behind the drapes today, drawing up medications and preparing IV tubing, and watching the fast green blips of the cardiac monitors, and the slower white waves of the ventilator, I felt like I had come home to the mother ship. I may not speak the language very fluently, but it felt right. Sitting there, I wondered why anyone would want to do anything other than anesthesia.
Well, at least for a job.
Because even anesthesia isn't as great as coming home to my family each day.
March has already brought changes there. You can feel cabin fever starting to dissipate. There is more laughter, more playing together, more time for stories.
Maybe all these changes have been happening for a longer time than just the last two days. Maybe it just took a turn of the calendar to start noticing them.
And to celebrate changes, and the happiness inherent in them, I am participating in Leigh's Happiness Project. (Leigh is my newest favorite blog...she is absolutely hilarious.)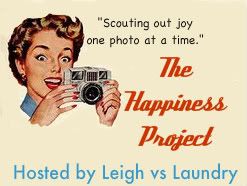 For all of March, I will be sharing a daily picture of what makes me happy. Although, if I do fall asleep from the 6 am operating room set-ups and the 8 pm laundry, please just let it go.
Today's happiness...
Need I say more?